Digital Tool & Die provides innovative, cost-effective tooling solutions that meet a broad range of manufacturing demands. Whether you need a progressive die, transfer die, or specialty tooling, we create quality on-time tooling that performs.
Progressive Dies
Progressive dies are complex assemblies used in high-volume production that trim, punch, bend, form, and coin various types of materials at high rates of speed. Digital Tool & Die specializes in providing innovative die solutions up to 84" wide by 240" long. We process many parts from Aluminum, high-strength steel, dual phase, and other material types to exacting tolerances. We also specialize in incorporating many in-die value-added tooling solutions such as studs, nuts, threading, and bushings.
Transfer Dies
Transfer dies are similar to progressive dies with the exception that the part is transferred from each station with an internal/external mechanism or robotically. Digital has experience integrating a wide range of transfer options so you can be sure that startups are as flawless as possible.
Roll Form Tooling
Digital Tool & Die has experience building tooling to support a wide range of roll forming applications. We build flying or stationary pre-pierce, mid-pierce, and post-pierce tools as well as cut-off tools and weld box assemblies. We can also design and build press frames, stands, servo tables, or other platforms to support the tooling. We can have designed and built tools that can handle multiple part variations with manual and automatic punch gaging features and multiple pick-ups to make multiple hits on longer pieces.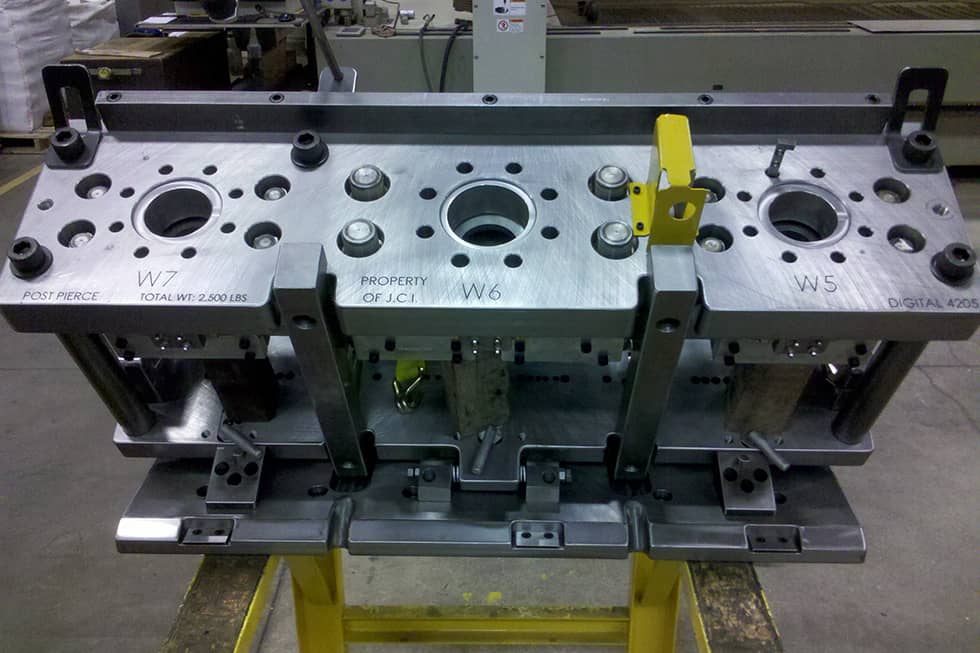 Specialty Tooling
When needed, Digital Tool & Die can engineer and build unique tool processing solutions outside of a traditional die that runs in a press. We can build turnkey solutions that operate with hydraulic, air, and stand-alone control systems to tackle those unique situations or integrate them into a stamping die when needed.
LCC Kit Dies & Details
Digital offers full LCC kit builds and hybrid detail solutions if requested. We partner with only the best suppliers and have a strict quality policy to ensure material, heat treat, and accuracy are adhered to.
More About Metal Stamping Dies
Digital Tool & Die combines the latest technologies with efficient build practices to provide quality on-time tooling that performs. We emphasize accuracy to CAD build practices, ensuring replaceability of die components using 3D CAD drawings for years of trouble-free maintenance. We also take pride in supporting our customers to make sure any issue is resolved promptly—sometimes years after the tool has been in production.