More Than Just a Die Shop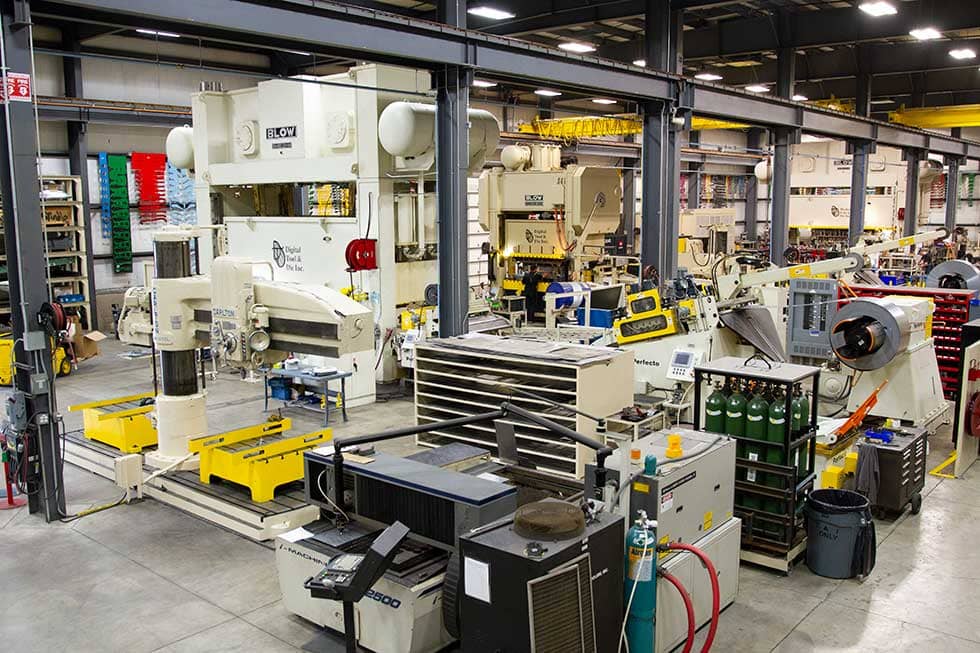 Established in 1989, Digital Tool & Die Inc. is privately owned and located in Grandville, Michigan. Our team started out in a 10,000 square foot facility. After nearly 30 years of constant growth along with three building expansions, we now have a 50,000 square foot, state-of-the-art facility.
Our highly trained teams specialize in designing and fabricating world-class sheet metal stamping dies, roll forming, fixtures, fabrication, and special applications to meet the industrial needs for automotive, furniture, prototyping, appliance, and U.S. Military.
We utilize our team's in-depth knowledge and expertise to solve all trimming and forming issues associated with DP steel and other ferrous and non-ferrous materials requiring tight tolerances. Our CAD and Simulation team assist our customers in creating a 3D solid model that can be produced daily in production without fail. CAD/CAM is used to make 100% of our tooling components to ensure all designs match the finished product when completed. This ensures that customers can easily make replacement details using the CAD design and bill of materials provided at the project's end.
"Digital Tool & Die continues to meet or exceed our requirements for metal stamping tooling at Adient. Digital has outperformed its competition in regards to exceeding our run rates, and delivering tools with zero warranty issues for the past 10 years. Digital is truly world-class!"
Andy Erard
Adient, Director Advanced MFG Engineering, Product Business Unit Metals
"Digital Tool & Die exceeded our expectations. An on-time die and a flawless runoff doesn't happen all the time, especially together."
– CB
"The attention to detail was phenomenal and I was impressed that we were able to obtain and run four quality parts out of two dies in less than one day, nice work."
– JS
​"I was very confident that the team here at Digital Tool & Die would build the die and produce the parts as needed."
– TH